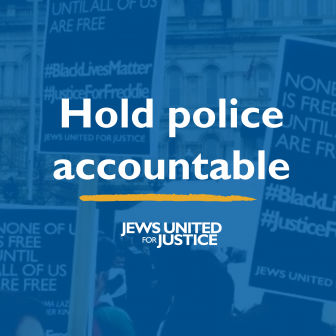 Jewish tradition teaches that "One must not stand idly by while your neighbor's blood is shed" (Leviticus 19:16). Yet, police have killed multiple Baltimore County residents, including two Black residents in 2016 and 2019 that have resulted in multi-million dollar settlements, but no prosecution of the police officers responsible. According to the 2021 Report from the Governor's Office of Crime Prevention, Youth, and Victim Services, Baltimore County has among the worst records in the State for civilian deaths involving a law enforcement officer.

In 2021, the Maryland Police Accountability Act (MPAA) was passed out of the Maryland General Assembly with the intent to establish community involvement in police misconduct investigations and to build trust between communities and law enforcement by engaging communities in the process. This spring, the Baltimore County Council has begun drafting their County's Police Accountability Board (PAB) implementation via Bill 24-22.
JUFJ leaders, our Baltimore County Coalition for Police Accountability coalition partners, and dozens of other Baltimore County residents have been advocating for a PAB that:
includes membership from communities most affected by law enforcement, and no former law enforcement officers
has independent investigatory powers
provides proper funding for the PAB to carry out its duties, including stipends for PAB members and hiring staff
has independent legal counsel
While we were advocating for these strengthening measures, the Baltimore County Council was not sharing any amendments they were considering with the community, despite repeated community requests.
Following intense advocacy efforts from our coalition for more time and community input, the Baltimore County Council postponed a vote on Bill 24-22 on 5/2, and committed to sharing the amendments to the bill before the next work session on Tuesday, May 17th. However, a vote is scheduled for Monday, May 23rd and the public still does not have access to the amendments that the Council is considering. The public needs sufficient time to analyze and provide feedback on the Council's amendments.
It's clear that the public supports increased police accountability, and we need to keep the pressure on members of the Council and the County Executive. Let us honor the intent of the MPAA by establishing a Police Accountability Board through a transparent, participatory, and accountable bill-drafting process. This includes ensuring that the public has access to amendments the Council is considering.
See options below to:
join us for a press conference on 5/25
learn more and educate others!
…and stay tuned for an updated action alert!