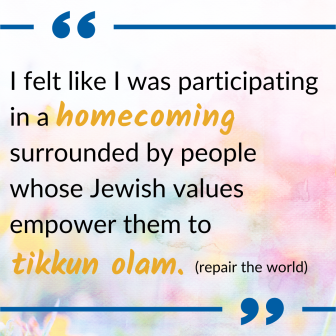 Reflection from the 2021 Maryland Statewide Kickoff
Written by JUFJ leader Casey Wade
"In memory of those lost, with care for all that is
Holding each other, we choose to live.
With courage and compassion, we practice staying human
Returning to ourselves, we choose to live"
These beautiful lyrics sung by Rena Branson greeted me when I logged into the Maryland Statewide Kickoff hosted by Jews United for Justice (JUFJ).  I felt my heart soar as the inspiring lyrics filled my office. We had not even begun to discuss the agenda, and yet I already found myself moved to get to work. I felt like I was participating in a homecoming surrounded by people whose Jewish values empower them to tikkun olam.

I joined JUFJ in July of this year. I had recently moved from Ohio to Maryland and was looking for an organization that shared my love for social justice and advocacy work and was rooted in Jewish values. After some research and encouragement from my rabbi, I contacted JUFJ to learn more about the group and issues facing Marylanders at both the local and state level. I was quickly connected to a staff member who took time to get to know me and bring me into the work. I was sold from the first meeting and have loved every moment of being a leader since – especially at this year's Maryland Statewide Kickoff.
During the kickoff, we were educated on the importance of organizing locally. Changes we make at the local level help us push for bigger changes at the state level by having local models to point to. This also allows us to build coalitions with local organizations that become partners in pursuing change at the state level. Furthermore, we discussed the issues of Paid Family and Medical Leave, Renters' Rights, Police Accountability, Court and Prison Reform, and Immigrant Rights. The time the presenters took to break down each of the issues, and explain each of their nuances, was invaluable to me as a newer Marylander. I walked away with a much stronger grasp of the issues and how I may be able to contribute in the 2022 legislative session. While I want to work on every issue JUFJ will pursue this legislative session, I am personally most excited about pushing for strong immigrant rights legislation, as this is an issue that impacts many of my neighbors who warmly welcomed me when I moved to Maryland.

Every issue was framed through a Jewish lens, reminding and empowering us to act for our neighbors and greater community. As Jews, we have a responsibility to pursue justice as we are reminded time and time again throughout the Torah. My mother always said to me growing up, "we must put feet to our prayers."  The Maryland Statewide Kickoff gave me the education, inspiration, and determination to do just that. From issue education to action alerts to testimony, I am ready to get to work for a more just Maryland. I hope you join me! 
Thank you to Casey Wade for her beautiful reflection on her Kickoff experience above, and thank you to the over 100 JUFJers who attended the Maryland Statewide Kickoff! With the Kickoff succesfully completed, we are now diving into the work and hope you will join us:
This session we will be focusing on five issue areas: Paid Family and Medical Leave, Renters' Rights, Police Accountability, Court and Prison Reform, and Immigrant Rights. In collaboration with our coalition partners we are finalizing our focus for each issue area. As part of that process, we want to know which of our key issues you're most invested in working on. Click "Tell us your Priorities" below to give us your input! (If you were not able to attend the Kickoff, please still share your feedback!)
Our "Annapolis Academy" trainings run from mid-October through the start of the legislative session. Join experienced JUFJers and staff to learn about your legislators, how to provide testimony, how the legislative session works, and more. Click "Attend an Annapolis Academy Training" below to learn more and to register.
District Captains are already working to mobilize JUFJers to engage on these issues and build relationships with Maryland state legislators. We need your involvement to have successful meetings with your legislators before session starts. These meetings will be an opportunity to share our legislative priorities and hear from legislators about their perspective for the upcoming session. Click "Meet with your State Legislators " below to sign up for a meeting in your district.
We started reaching out to our legislators during the Kickoff, by sending emails urging them to override Governor Hogan's vetos of legislation that is critical for immigrant rights and to keep politics out of the parole process. If you haven't filled out the Veto Override Action Alert yet, please do so now by clicking "Take Action."
At the bottom of this post, you will find all of the resources shared during the event, including a recording, a transcript, presentation slides, and one-pagers about the five issue areas. We look forward to working with you to make Maryland a place where everyone has what they need to live and thrive.