This post includes contributions from Heidi Rhodes and Karen Caplan, two JUFJ Montgomery County leaders.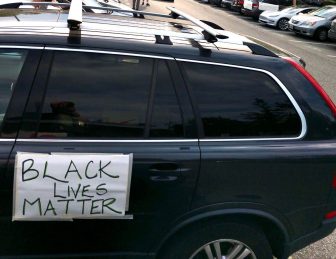 Last week we joined with partners led by the Silver Spring Justice Coalition for a Car Rally in Silver Spring. The rally was a call for justice for Finan Berhe, a black man recently killed by a Montgomery County police officer in Silver Spring, as well as George Floyd, and the countless other Black people whose lives have been taken by police violence. 
Hundreds joined the rally in peaceful protest with cars decked out with signs advocating for justice and an end to police violence. Participants were moved and energized by the many neighbors coming out in support. Here are some first-hand accounts of our JUFJ leaders who attended:
 I was amazed at the sheer number of cars involved. There must have been hundreds. My other impression was the people outside their homes cheering us on and taking pictures with their phones. They looked both surprised and pleased at what we were doing as we turned into the circle in front of the police station.
– Heidi Rhodes
It was exhilarating and reassuring. Turnout was more than I expected. The caravan was amazing—even in our cars it felt like we were a community coming together. We got such fantastic support from people driving by. This moment feels like it could be a turning point and we need to keep pushing to bring as many people as possible on board! 
– Karen Caplan
Working in partnership with Black organizers and leaders, we are working to seize the energy of this moment, reimagine our statewide policing coalition and agenda, and hold legislators and those in power accountable for the harm and violence perpetrated by police. Join us in this work!