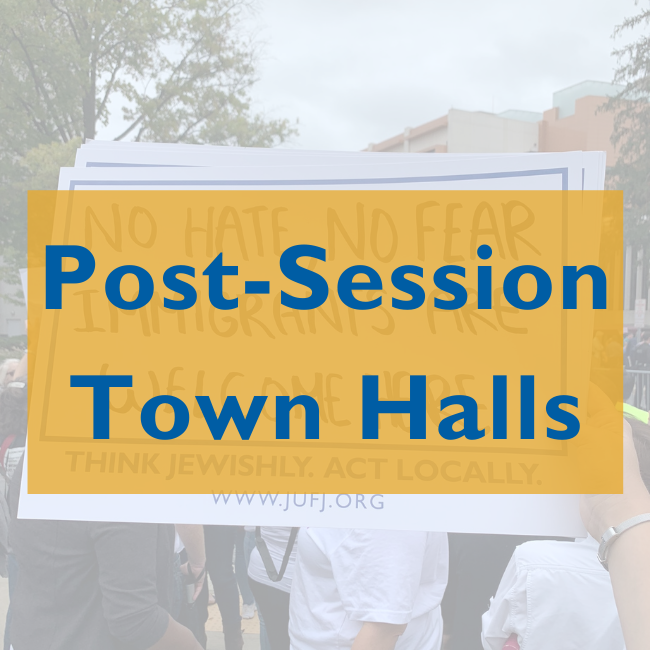 This is a guest post by JUFJer Heidi Rhodes, a volunteer leader of our Montgomery County and Maryland statewide campaign work.
I attended two after-session town halls this year, one held by my Maryland state delegates and one by the local Democratic Party. These meetings are both a time for the delegates and senators to present  what they feel they have accomplished during the state session and an opportunity for constituents to build relationships with our representatives. Showing up (as over 30 JUFJers did to 13 different town halls this year) is important; we get to listen and learn what the representatives hold as meaningful and hold them accountable for what we feel is still necessary to accomplish.
Building these relationships means listening. When we pay attention to what the representatives highlight as their successes during the session, we learn what accomplishments have the most meaning to them. We can also learn by how they phrase what didn't get accomplished, as they often provide clues as to how close they feel some bills are to being passed in the next session.
Building these relationships also means holding our legislators accountable for their actions during the session. We need to ask them what can be done to move the needle on our important issues in the next session. This is especially important to know where and how to focus our off-session work. It's also necessary to ask them about our issues that the representatives don't raise in their presentation, thus reminding them that these issues are important to JUFJ and to our partners.
During the town halls, JUFJers asked why emergency eviction protections weren't passed this session, especially considering 200,000 households are currently facing eviction. JUFJers asked why the Time to Care Act, which would provide Paid Family and Medical Leave to Marylanders, wasn't prioritized this year as working people continue to feel the impacts of the pandemic. And JUFJers asked why bills to remove police from schools and reallocate funding to critical student supports did not advance at all.
There is much more work to do. I hope you will join me in building relationships with our legislators and holding them accountable. We are starting our planning for next year's state session early – save the date for the upcoming "Intersession Interest Sessions" on the last Wednesday nights of June, July and August. More information is coming soon!
Save the Date: Intersession Interest Sessions
Wednesday, June 30, 7:30 PM: Police free schools
Wednesday, July 28, 7:30 PM: Paid family and medical leave
Wednesday, August 25, 7:30 PM: State budget and taxes