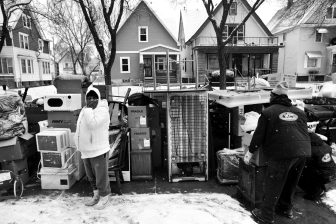 Just before Thanksgiving, the DC Council – almost unanimously – chose to give $20 million to large commercial properties instead of ending homelessness for over 700 of DC's most vulnerable residents. 
SAY WHAT!?!
That's right. DC is starting to collect sales taxes from online retailers, leveling the playing field for local brick-and-mortar shops. This sales tax is projected to raise $20 million annually. This sort of revenue could fund:
Permanent Supportive Housing for over 700 individuals facing chronic homelessness.




Rental assistance for 1,000 extremely low-income households.




Increased child care subsidies under the just-passed "Birth to Three for All DC" Act by raising wages for underpaid early childhood education workers.




Healthcare access for over 5,000 residents through the DC Healthcare Alliance.
When the Council first contemplated what to do with online sales tax revenue, they committed much of it to ending homelessness through programs such as the Permanent Supportive Housing Program and the Local Rent Supplement Program, but now the Council is poised to redirect those dollars toward tax breaks for DC's largest office and commercial buildings. For a city facing growing inequality, homelessness, and displacement, this decision is nothing short of immoral.
DEMAND BETTER!