Heschel Vision Experience: Night 2
November 17, 2020 | 6:00 pm

-

8:00 pm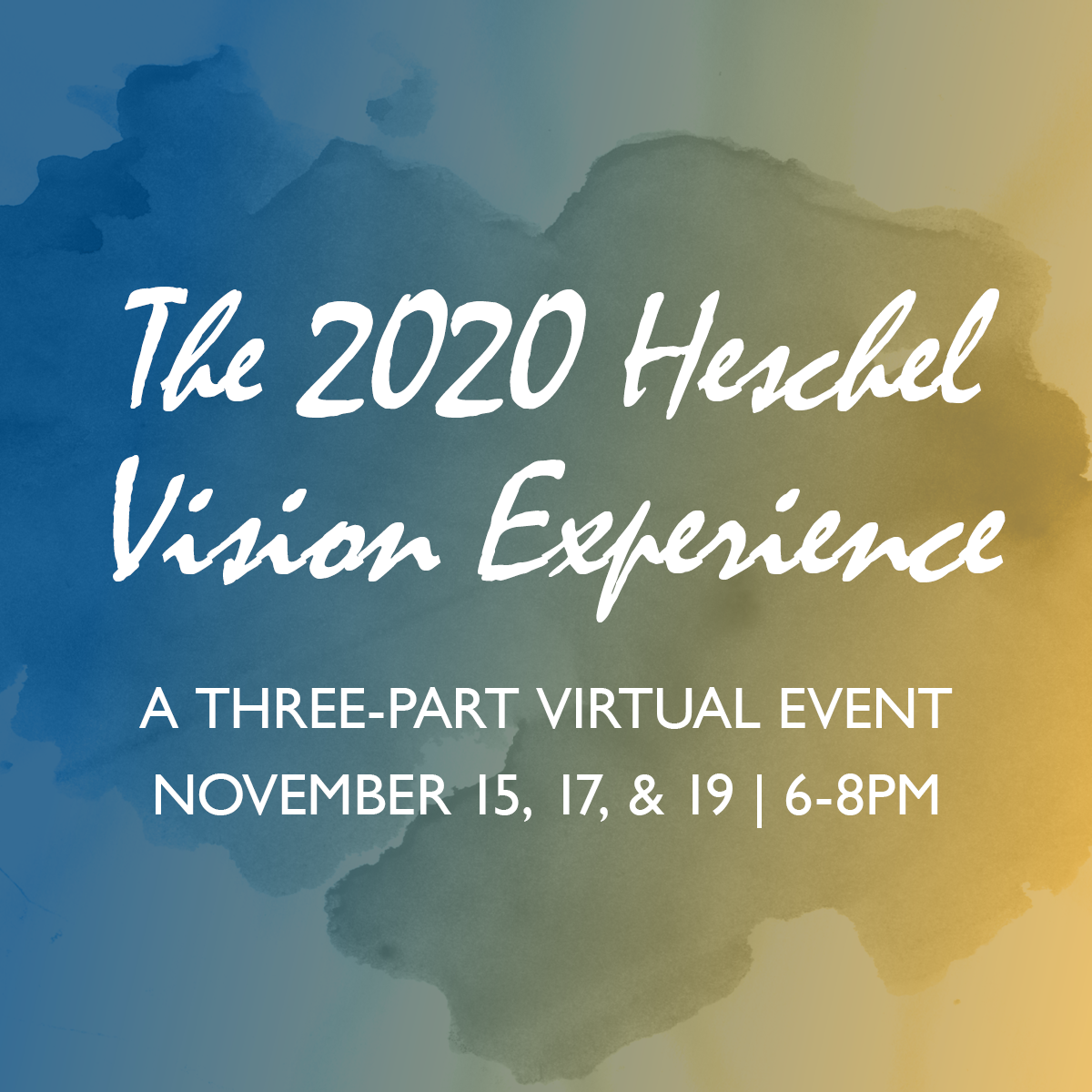 Registration is now open for the 2020 Heschel Vision Experience
Each year, JUFJ's Heschel Vision Awards celebrate members of our community who take action with deep moral commitment and who inspire and empower others.
This year the 2020 Heschel Vision Experience will come together virtually for the first time ever, and will take place over three days: Sunday, November 15, Tuesday, November 17, and Thursday, November 19, from 6:00-8:00PM each evening.
Tuesday, November 17 will be Night 2 of the Experience. During this portion of the Experience we'll hear from notable changemakers how national efforts impact our local work and how JUFJ fits into the national effort for racial and economic justice. Participants will then join one of our group sessions for deeper conversation about JUFJ's work and the lessons at the heart of it.
Tuesday Sessions
Impact of the 2020 Elections
What do the results of this election mean for our community's efforts to advance social, racial and economic justice in Washington, DC and Maryland? What is possible in the coming years? Three powerful women leaders from our region will help us make sense of this moment and the future: Wendy Chun-Hoon, Executive Director of Family Values at Work; Elizabeth Falcon, Executive Director of DC Jobs with Justice; and Kim Propeack, Chief of Politics and Communications of CASA.

How We Organize for Change
When we organize with JUFJ, we educate and mobilize our local Jewish communities to make real, immediate, and concrete improvements in people's lives. Who are the partners in our coalitions? What values drive our work? What issues do we work on? Join JUFJ leaders Hannah Weilbacher, Heidi Rhodes, Jo Shifrin, and Dan Richman for a crash course on JUFJ and how we organize for change.

Torah for this Moment
Jewish texts and traditions have helped our communities stay resilient over the centuries, through times of danger and safety, rejoicing and sorrow, upheaval and peace. Join some of our community's talented teachers of Torah as they share some text-based Jewish wisdom for navigating the anxieties of life in 2020. All are welcome, no previous text study background needed.
Register to join these and all the sessions of the 2020 Heschel Vision Experience.